GloversvilleWater.Com Home
Notice (3/1/2019) - Credit Card Payments in the Office

Effective February 26,2019, we will be changing service providers for the processing of credit/debit card and E check payments for payment of water bills.
Effective 2/26/19:
• We will have the capability to take credit/debit card payments in the office.
The new transaction fees will be as follows:
• 2.1% plus a .25 cent fee per transaction for credit/debit card payments with a payment limit of $1,500.00 per 30 days.
• $1.00 per transaction fee for E-checks with a $25,000.00 payment limit.
Payments will be able to be made online, over the phone and at the office of the Water Department, 67-73 S. Main St., Gloversville, NY 12078.
As always, if you should have any questions or concerns, please feel free to contact us at 518-773-4520.
Payments may be made :

  Online : Click Here for Online Bill Pay

  By Phone: Call 1-844-667-8277

  In Our Office: Gloversville WaterWorks – 67-73 South Main Street Gloversville, NY

Gloversville WaterWorks will now accept : Visa, Mastercard, Discover, & American Express
---
Our New Location at 67 - 73 South Main St.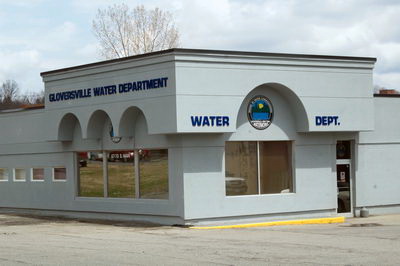 Amazing Drone Pictures of Our Fantastic Reservoirs
Click for Larger View