GloversvilleWater.Com Home
Notice (09/14/2017)

Please be advised, if you have discoloration in your water at any time, this is probably due to our department flushing fire hydrants. When flushing occurs, this causes a surge in our water system which stirs up the natural causing sediments in the waterlines.  This is a normal occurrence and the water is completely safe to drink.  If you have discoloration in your water, you can let the water run for a few minutes and the water should clear up. 
If you have an earthy smell/taste to your water, this is due to algae in our raw water supply being killed off by either our department adding a chemical to our raw water to rid our reservoirs of the algae, or because of the water temperature is getting colder and the algae is dying off because of the cooler water temperature.  Even though there is an unpleasant odor/taste, the water is still safe to drink and cook with.  The water has gone through the filtration process and has been tested before it enters our system.
As always, if you should have any questions or concerns, please feel free to contact us at 518-773-4520.
Our New Location at 67 - 73 South Main St.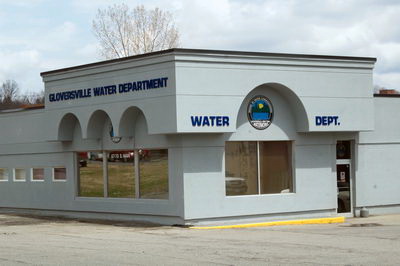 Amazing Drone Pictures of Our Fantastic Reservoirs
Click for Larger View